Guttering and gutter repairs all over Leeds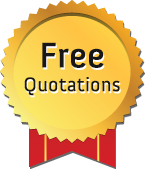 Are your old gutters looking tired, discoloured, beginning to leak and are generally in need of replacement? If it's time for new guttering, we can help you! We can repair or replace gutters, down pipes and fall pipes for you no matter which part of Leeds you are in - and in an array of colours. Call us today and we'll give you a free estimate.
Don't forget the soffits, bargeboards and fascias too!
The roofline is often ignored when it comes to regular maintenance, but water can get in through rotten fascias and soffits, potentially damaging the roof timbers. We can repair or replace your soffits, fascias and bargeboards, either with traditional timber or modern uPVC in a choice of colours. Eaves felt and rotten rafter ends are repaired as a matter of course during these works.
Remember, every time you deal with us you'll get:
Free, no obligation estimates for all the work that needs doing
Professional and trained roofing experts coming to do the work
An extensive guarantee covering the work we've done
Need guttering in Leeds? Call us today
For replacement gutters, fall pipes or anything else to do with the roofline of your roof, get in touch. We're here to take your call and we'll happily offer you advice on the best course of action. We cover the whole of Leeds and Yorkshire, so for gutter repairs, new guttering, fascias, soffits or anything else, call us today on Leeds 0113 370 8880.